We are a ministry that teaches people around the world the Word of God as it relates to their God-given entrepreneurial calling. Our mission is based on Joshua 1:8 KJV, which says …
This book of the law shall not depart out of thy mouth; but thou shalt meditate therein day and night, that thou mayest observe to do according to all that is written therein: for then thou shalt make thy way prosperous, and then thou shalt have good success.
It is the Word you meditate on daily that causes you to have good success in your entrepreneurial pursuits. Because through the Word you grow faith and receive insight from the Holy Spirit to succeed at your entrepreneurial calling.
Therefore, we have created an audio library of 400+ messages (approximately 10-min in length) for you to listen to on a daily basis. Every message teaches the Word of God from an entrepreneurial perspective, so you can develop the foundation of faith to succeed at your calling. Also, each week we create several new messages to add to the library.
Membership
---
If you are in need of a church or desire specialized support for your calling, then pray about joining us. Our online church membership is not exclusive. You can be a member of another congregation and ours simultaneously.
We are an online church home to Christian entrepreneurs worldwide. Our commitment is to equip you to succeed at your entrepreneurial calling by teaching you the Word, providing you with counsel, and praying for your success. | Click Here for Membership Details
We look forward to serving you as a podcast listener and/or member. If you ever need to reach out to us, then contact us and we will be glad to serve you.
Be Blessed.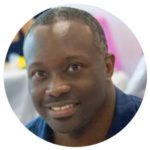 Amos Johnson Jr, PhD
Founder & Pastor | Church for Entrepreneurs