In the beginning God created the heavens and the earth. The earth was formless and empty, and darkness covered the deep waters. And the Spirit of God was hovering over the surface of the waters. – Genesis 1:1-2
We are an online church that equips believers across the world to succeed at their God-given entrepreneurial calling by teaching them the Word of God from an entrepreneurial perspective and providing them with godly counsel along their entrepreneurial journey.
The Call ► Holy Spirit has given us a very specific definition of an entrepreneur. Entrepreneurs are creators whom God has called to start businesses to make profits, found good-work organizations to serve communities, or launch ministries to equip believers.
If your calling is in one or more of these areas, then pray about joining us. Our online church membership is not exclusive. You can be a member of another congregation and ours simultaneously.
Even if you are not led to join us, consider subscribing to our audio podcast messages. Each week we create several messages on our podcast that teach the Word of God from an entrepreneurial perspective so you can develop the foundation of faith to succeed at your calling.
We look forward to serving you (as a subscriber or member) and to helping you succeed at the entrepreneurial calling that God has placed in your heart.
Be Blessed.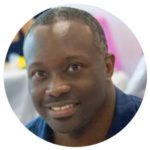 Amos Johnson Jr, PhD
CEO & Pastor | Church for Entrepreneurs