---
Our interview today is with Cliff Ravenscrafts. He is sharing his journey and faith-lessons learned from only making $11k the first year in business to making $28K a month the next year by trusting God.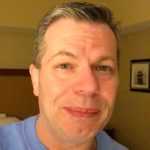 Cliff Ravenscraft started Podcasting as a hobby in December of 2005 talking about the television show, Lost. By mid 2007, he created multiple podcasts and had become consumed with passion for not only creating content, but also building relationships with the individuals who listened to his shows.
In January 2008, he left his career in insurance, after 11 years, to pursue his passion in podcasting full-time. It was the first time in his life that he felt like he honestly knew what it mean to LIVE BY FAITH.
Cliff gives valuable tips of how to trust God to become successful at what you do. Some of the things he says is …
By craving clarify we try to limit the risk of trusting God.
My needs are not meet by what I do or don't do, but by the loving hand of God.
God can match in a thought, what you took all month doing.
Now his podcasts reach over 60,000 listeners and he is making over $500k per year. All from trusting God.
---
---
Please leave a testimony or comment
Comments and testimonies below are from this message and others messages on our website.
---
Podcast: Download (Duration: 10:39 — 7.9MB)