Become a Member
of Church for Entrepreneurs
---
And he gave some, apostles; and some, prophets; and some, evangelists; and some, pastors and teachers; For the perfecting of the saints, for the work of the ministry, for the edifying of the body of Christ – Ephesians 4:11-12 KJV
We are an online church that equips people across the world to succeed at their God-given entrepreneurial calling by teaching them the Word of God, providing them with godly counsel, and praying for their success.

Our founder and pastor, Amos Johnson Jr, PhD, has been given a calling to teach and guide Christian entrepreneurs worldwide. He believes that a fulfilled life comes from knowing what God has called you to do and doing it. Listen to the audio message below as Amos explains the heart behind his calling to pastor Christian entrepreneurs.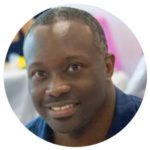 Amos Johnson Jr, PhD
---
If you are in need of a church or desire specialized support for your calling, then pray about joining us. Our online church membership is not exclusive. You can be a member of another congregation and ours simultaneously.
Our Commitment to You
---
► Teach.
We commit to teach you the Word of God from an entrepreneurial perspective through our global podcast, with several new podcast messages released each week.
► Counsel. We commit to provide you with godly counsel free of charge when you need specific guidance and insight on your calling. (You'll have access to our scheduling software.)
► Pray. We commit to consistently pray over your calling and praying in response to the requests you submit to us through our prayer request portal.
Simply stated, we are committed to equipping you to succeed at your entrepreneurial calling. There is no financial obligation to being a member. Giving, sowing, or tithing to Church for Entrepreneurs is based on how God is leading you.
Our Statement of Faith
---
We believe:
The Bible is the divinely inspired Word of God.
In the 3-part nature of God, the Father, the Son and the Holy Spirit.
The Lord Jesus Christ, the only begotten Son of God, was conceived of the Holy Spirit, born of the Virgin Mary, was crucified, died and was buried; He was resurrected, ascended into heaven and is now seated at the right hand of God the Father and is true God and true man.
In the resurrection of the dead, the eternal happiness of the saved, and the eternal punishment of the lost.
In personal salvation of believers through the shed blood of Jesus Christ.
In divine healing, through faith in the Name of Jesus Christ, and that healing is included in redemption.
Prosperity is available to all believers in Christ through Faith.
In water baptism, in the Baptism in the Holy Spirit as distinct from the new birth, in speaking with tongues as the Spirit of God gives utterance (Acts 2:4), in the gifts of the Spirit, and the evidence of the fruit of the spirit. We believe that all of these are available to believers.
In the personal and visible return of Jesus Christ.
If God is leading you to join us, then all you need to do is enter your name and email address below to become a member of Church for Entrepreneurs.
Please enter your name and email address to join
the Church for Entrepreneurs
---